The Industry's First Desktop-to-Datacenter Next Generation Software Asset Management Solution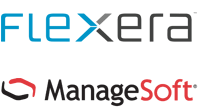 Enterprise License Optimization solutions such as Flexera's FlexNet Manager Suite for Enterprises represent the next generation software asset management solution capable of meeting today's business challenges. Whether extending the value of your existing software asset management, IT asset management solution or acting alone, such solutions reconcile detailed insights into the software entitlements you own and actual application usage data. The result is unprecedented control of your application usage, providing the strategic solution needed to drive upwards of 5-30% savings in software spend. In fact, one global consumer packaged goods leader saved more than $30 million in under six months using Flexera's Enterprise License Optimization platform.
ManageSoft products now become strategic additions to Flexera's FlexNet Manager Suite for Enterprises. ManageSoft technology brings the ability to manage and optimize datacenter applications and desktop applications from vendors such as Microsoft and Adobe—a requirement viewed as "table stakes" by most enterprise and government prospects-while providing a platform for delivering license optimization solutions across additional applications in the future. These capabilities join Flexera's existing SAP, Oracle and engineering application solutions to deliver companies a truly comprehensive solution to optimize application usage.
The combination of ManageSoft and Flexera products represents a game changer in the industry by optimizing the software license position for strategic applications and enabling procurement to make knowledge driven decisions to buy new licenses only when necessary and ensuring continuous software compliance across the entire software estate. Flexera is the only company offering such a solution.