Flexera Software and SCCM Expert
Enabling IT as a Service While Enhancing Application Readiness & Enterprise License Optimization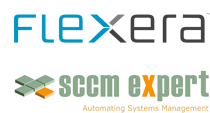 Enterprises recognize that applications have become strategic—they don't just help the business, they run it. Yet application usage is among the least well managed of strategic enterprise resources and most companies manage application usage tactically if at all. Combined with initiatives to deliver IT as a Service and support the consumerization of IT, enterprises are seeking solutions that empower users and streamline operational costs while ensuring greater control over software compliance and spend.
SCCM Expert Self Service empowers employees with on-demand software provisioning through an enterprise app store, helping companies automate software request management and delivery. Flexera Software sees Self Service as a strategic addition that complements our Application Readiness and Software License Optimization solutions. Flexera Software delivers strategic solutions to manage application usage across the application life cycle and Self Service helps broaden that vision.
Application Readiness solutions such as Flexera Software's market leading AdminStudio Suite are enabling Windows 7 migrations, desktop transformation projects, application virtualization and cloud deployments by automating the assessment, conversion and publishing of various formats to both physical and cloud environments.
Enterprise License Optimization solutions such as Flexera Software's FlexNet Manager Suite for Enterprises represent the next generation software asset management solution for controlling, using and optimizing the software licenses you have while ensuring that you only buy what you need. Whether extending the value of your existing solution or standing up a new system, such solutions provide detailed insights into the software you own, including actual application usage and opportunities for cost savings. The result is unprecedented control of your application usage, providing the strategic solution needed to drive upwards of 5-30% savings in software spend—which can translate into tens of millions of dollars.
Self Service represents the latest strategic addition to our growing set of Application Usage Management solutions for enterprises. The acquisition helps IT management better deliver and manage the consumerization of IT by providing enterprise users with a powerful app store portal to access and download on-premises, Cloud-based or virtualized enterprise applications anytime, anywhere, along with tools to help IT maintain control and ensure accountability and software compliance.